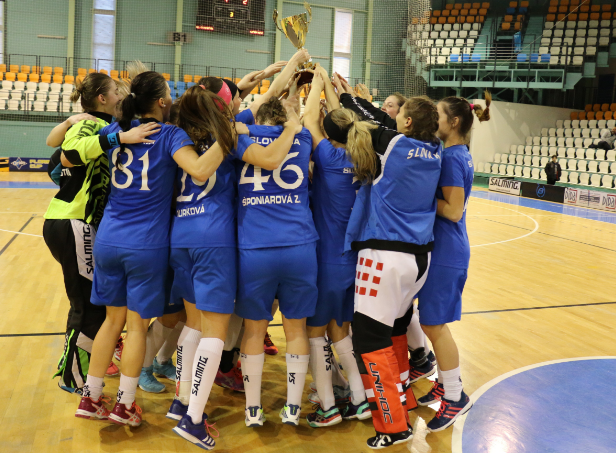 Slovak women´s national team showed collective strenght and important individual performances at Six Nations Cup in Nitra. It can be a good signal before World Floorball Championships in Bratislava.
Three-day international tournament called Six Nations Cup started on Friday in Nitra with confrontation of Slovakia and Poland. In dramatic duel Slovak players for the first time in history beat Poland 4:3. Next opponent against home team was Latvia. At the beginning, Slovak women conceded two goals, but Slovakia refreshed in the second period by scoring four goals and led with one-goal advantage. Unfortunately for Slovakia, Latvians achieved last-minute goal. It resulted in draw 5:5.
Host-country continued to semi-final match against Denmark. Danish national team occupied second place with two points in group B. The opening period of match was clearly in the hands of Denmark, taking a lead 2:0. The second part of the game was the same like period in previous Slovak´s match against Latvia. Slovak players scored four goals and went ahead before the last period with two-goal advantage. Thanks to this turnaround, Slovakia won another match and qualified for the final.
The last confrontation at Six Nations Cup between Slovakia and Norway that finished at the top of group B started on Sunday. The first goal of the game scored Slovak floorball team at 18-th minute thanks Paulína Hudáková. Norway later scored a goal and equaled the score at 1:1, but Slovakia responded in three minutes. The triumph confirmed another two goals in Norwegian net. Slovakia won Six Nations Cup in Nitra and players around coach Jedlička have hopeful views before the World Championships in Bratislava.
Final standings of Six Nations Cup:
1.Slovakia, 2.Norway, 3.Poland, 4. Denmark, 5.Latvia, 6.Germany
Final results of Six Nations Cup:
Final: Slovakia 4:2 Norway
The match for third place: Denmark 1:5 Poland
The match for fifth place: Latvia 6:5 Germany
Semi-final 1: Slovakia 7:3 Denmark
Semi-final 2: Norway 5:4 Poland
Final standings in group A:
1. Slovakia 2 1 1 0 9:8 3
2. Poland 2 1 0 1 6:6 2
3. Latvia 2 0 1 1 7:8 1
Final standings in group B:
1. Norway 2 2 0 0 11:5 4
2. Denmark 2 1 0 1 9:9 2
3. Germany 2 0 0 2 5:11 0